Precision Sheet Metal Fabrication
AR Metalcrafters is a Precision Sheet Metal Fabricator and a Custom Sheet Metal Fabricator. Using our main capabilities - highly-skilled and experienced operators, state of the art equipment, and lean manufacturing production techniques - AR Metalcrafters is able to reliably serve our customers with quality precision sheet metal fabrication work.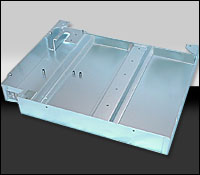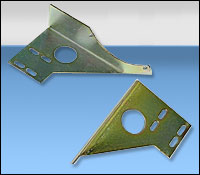 We can work with you in two ways.
Design-Assisted Custom Sheet Metal Fabrication

AR Metalcrafters has on-staff mechanical engineering talent to work with you to help with your design. Our design assistance can help you discover a:

better design for easier fabrication
better material or finish for the component
better form for the function you need
different design viewpoint from our experience in other projects and industries

If your product or project can benefit from our years of experience in custom sheet metal fabrication, we would be happy to work with you to assist in your design process.

Precision Sheet Metal Fabrication from your own Good Design

You have an excellent new design or a time-tested engineering specification that is ready to go. Using your good design, we'll produce your sheet metal pieces:

On time
Made to your specification
With excellent customer service
Cost effectively
Using our lean manufacturing expertise

We are ready to provide competitive quotes from your engineering drawings and specifications.

We are ready to produce high quality components, on time and backed by our excellent customer service.

Sheet Metal Components
We can fabricate any sheet metal component, from simple brackets to complex welded assemblies in materials ranging from 24 gauge to 7 gauge carbon steel, stainless steel and aluminum. We can produce quantities varying from prototypes to large production runs of thousands of pieces.