AR Metalcrafters - The Heavyweights in Lightweight Fabrication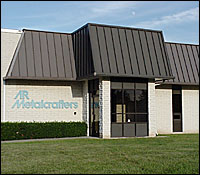 The folks at AR Metalcrafters are looking forward to working with you. Scott and the team at AR will be working closely to make this transition seamless, but please do not hesitate to contact us via phone, or email if you have any questions. For now, the customers of McMahon should continue to communicate directly with Scott and we will be in touch with each of you very soon with regard to the timing of the transition.
AR Metalcrafters specializes in custom sheet metal fabrication and precision sheet metal fabrication. We manufacture close-tolerance sheet metal components made precisely to your specifications. Our name says a lot about our company - we craft metal to meet your needs. AR Metalcrafters has established a reputation for tackling the most difficult sheet metal assignments.
Contact AR Metalcrafters for your custom sheet metal fabrication and precision sheet metal fabrication needs.
Our Expertise: Design and Engineering
We have discovered that customizing the component for your project is often less costly than modifying an existing "off-the-shelf" product. You benefit from our expertise.
Our expertise in sheet metal fabrication has saved our clients time and money, while improving upon the project by having our engineers and designers review and make insightful design and manufacturing recommendations. We can:
Review client drawings for ease of manufacturability
Reduce costs
Complete product design
Collaborate on engineering
Our Competence: Custom Sheet Metal Fabrication
We specialize in meticulous precision crafted sheet metal fabrication. From short runs, to multiple products, to long runs on short notice, no project is too big, none is too small. We deliver on:
Short and long runs
Short notice, fast turn-around
Our Commitment: Dependable Customer Service
Integrity in workmanship is only part of our relationship with our customers. We are equally committed to delivering uncommonly courteous customer service. At AR Metalcrafters, we develop partnerships with every client on every sheet metal fabrication project. We excel at:
Partnerships
Strong client relationships
Industry leading customer service
Honesty and integrity in everything we do
Our Operations: Efficient
Our efficient sheet metal fabrication facility ensures accuracy, on-time-delivery, and as a result, reduces cost for our clients. We strive for:
On-time Delivery
Flawless workmanship
Reduced client costs
Contact AR Metalcrafters
Contact Us for further assistance.