AR Metalcrafters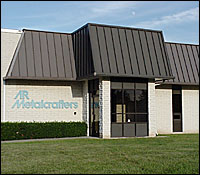 Founded in 1967 in Philadelphia and now located in Montgomery County, Pennsylvania, AR Metalcrafters has a long-standing good reputation in the sheet metal fabrication industry.
Located in the Delaware Valley region of Pennsylvania, just 30 miles north and west of Philadelphia and convenient to most U. S. East Coast transportation routes, we service a geographically diverse group of clients locally and throughout the United States and Canada.
Company History
AR Metalcrafters has a long year history of excellence in sheet metal design and fabrication, with over 30 years of experience. From the start of our predecessor company in an industrial section of Philadelphia to our present 20,000 sq. ft. facility in Souderton, Pennsylvania, we've grown and prospered by providing excellent products, value-added services, and reliable production, on-time deliveries, and outstanding customer service.
The current owners of AR Metalcrafters purchased the company in 2006. Since then, continuous growth has been accomplished by a combination of the following elements:
Industry leading craftsmanship
Equipment blending CNC and manually operated work centers.
Use of Lean manufacturing to streamline our operations.
State of the art production management software for tracking jobs, costs, and scheduling the factory.
We specialize in and pride ourselves in:
Design and Engineering Expertise
Custom Sheet Metal Fabrication Skills
Dependable Customer Service
Efficient Operations
Address:
AR Metalcrafters LLC
655 Wambold Road
Souderton, PA 18964
Contact AR Metalcrafters
Contact Us for further assistance.