AR Metalcrafters' Core Competencies in Sheet Metal Fabrication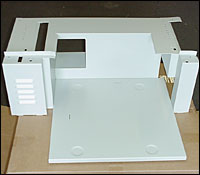 We can fabricate any sheet metal component, from simple brackets to complex welded assemblies in materials ranging from 24 gauge to 7 gauge carbon steel, stainless steel and aluminum. We can produce quantities varying from prototypes to large production runs of thousands of pieces.
We Specialize in Being Meticulous
While having up-to-date machinery is certainly an important factor in producing top-quality parts, of even greater importance is developing an understanding of the customer's requirements. We work hard to insure that your engineers' intentions are communicated to our manufacturing team so that the parts you receive match your expectations.
Lean Manufacturing as a Competitive Advantage
In early 1999 we transitioned from old-fashioned, traditional batch processing and began to reorganize both our thinking and our physical plant to take advantage of lean manufacturing techniques and philosophy. With the process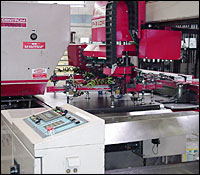 flow that lean manufacturing created, we were able to streamline our production operations and improve our on-time delivery performance to 95% while at the same time reducing floor space utilization by a third and work-in-process inventory by 40%! Lean manufacturing gives us a huge competitive advantage over outdated big-batch manufacturing companies, giving us an edge that cannot be beat by traditional sheet metal fabricators. The editors of Modern Machine Shop were impressed enough to write an article about our transformation. ('Better Production')
Honest, Dependable Customer Service
It's a given in the world of custom manufacturing that not every job can be delivered on time, but at least you should expect that your jobs won't get lost in the system. We have implemented a computerized order tracking and scheduling system called E2 by Shoptech™ which provides visibility for every job in our plant in real time. In the rare instance where we see that a job is going to be late for any reason, we have the ability to notify our customers ahead of time so that they have the opportunity to adjust to the new delivery date without disrupting production.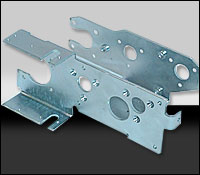 Value Added Engineering
Providing savings to customers shouldn't be solely about having the lowest price bid. We have learned that by taking the time to understand our clients' applications, our innovative engineering team can often make suggestions that result in a more effective design, reducing both costs and lead-times.
Good Partners to Add Value to Your Components
Through our extensive local network of metal finishers, we can provide nearly any surface finish you require including wet spray paint, powder coat, silkscreen, anodize or alodine, zinc plate and plastic dip.
Contact AR Metalcrafters
Contact Us for further assistance.